Want some inspiration on how to turn an old shed into a cozy writers cottage?
A home office, a "she-shed," a man-cave, a reading nook… Whatever you want to call it, here's how I fixed up the old shed in my backyard as a retreat for my writing.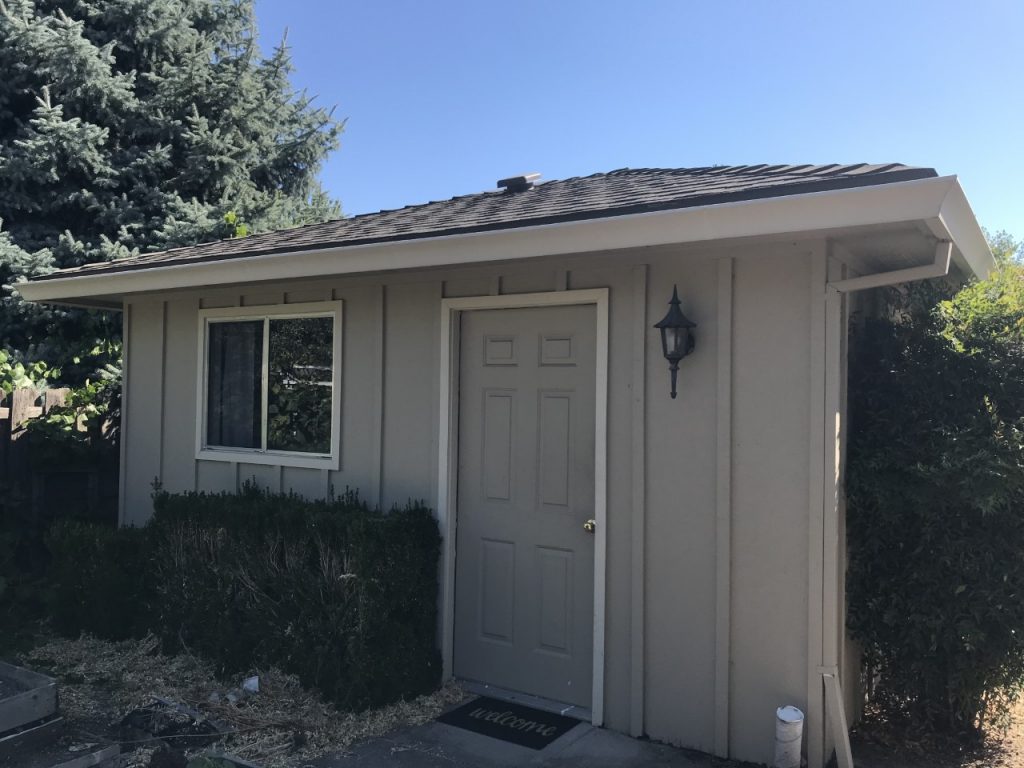 Creating A Writer's Cottage
… from an old gunky shed.
I was lucky enough to have a shed in my yard.
If you don't, you can find plans to build your own or have one built. Before you get too jealous, I do rent my home, so this is not a forever space for me, and also I was determined to spend next to nothing on this project.
Because… I rent.
And also… I'm cheap.
Like, my parents always told me I squeaked when I walked.
'Cause I'm so tight, get it?
Anyway. Once upon a time, I had a week off of work, and my middle daughter had recently moved away. In other words, I was eating my feelings and needed a project.
I'm not much of an artist or crafter (unless it's my Haunted Dollhouse project, which is about to come back in from the garage for Halloween décor soon), and like I said, I'm cheap, so transforming this icky space into a workable and adorable office on a shoestring was key.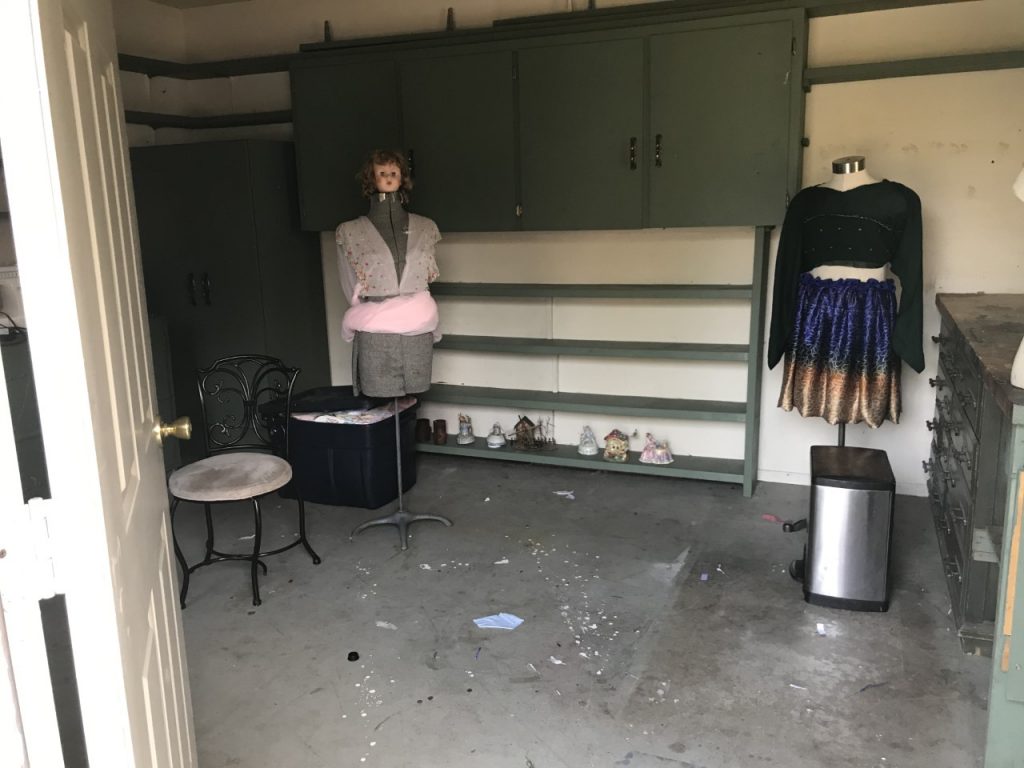 Sorry about Margaret, the haunted dress mannequin, there.
I should have warned ya. Just be grateful my kid had moved all of her creepy dolls and clown collection out before I took this picture.
I kid not.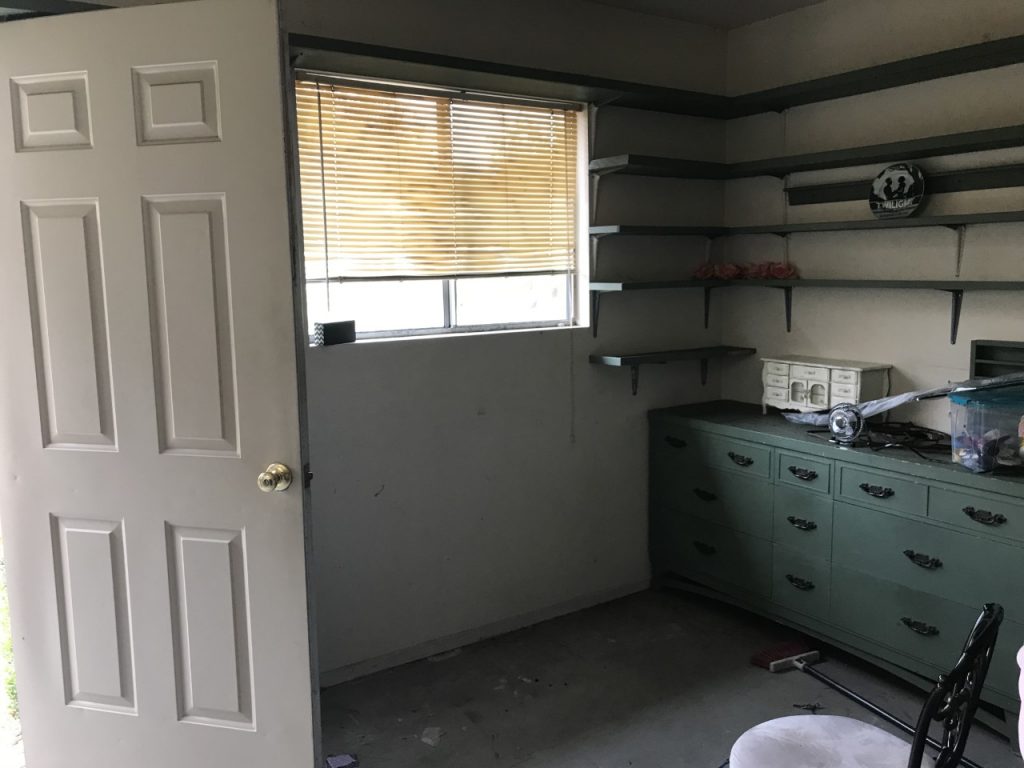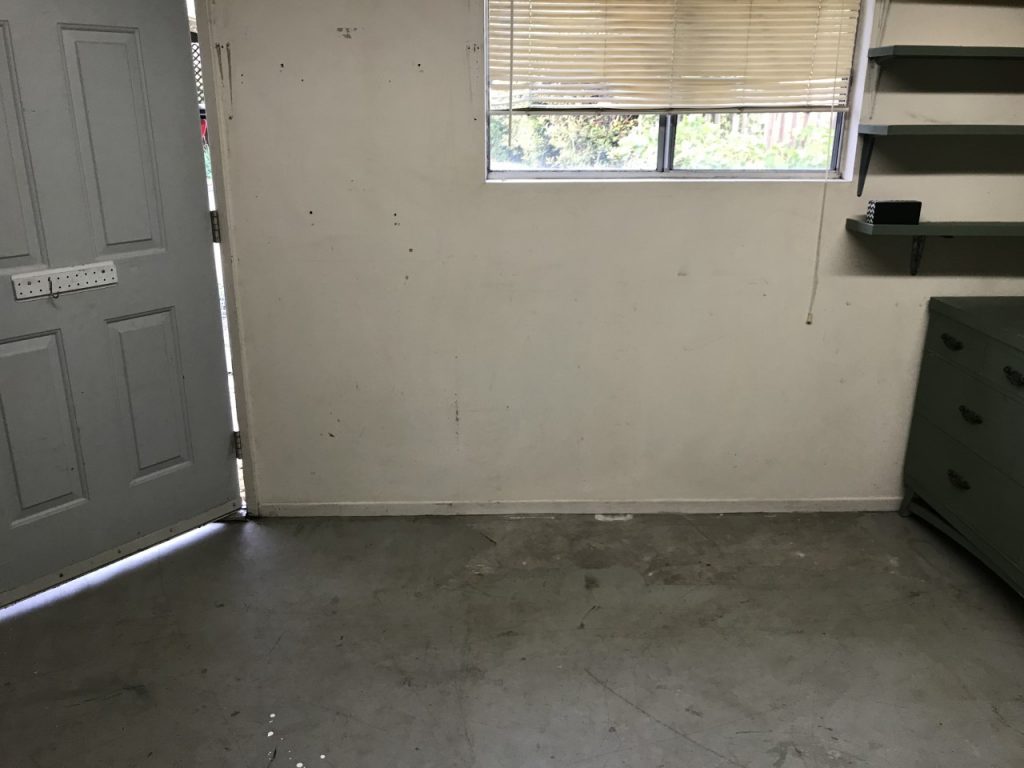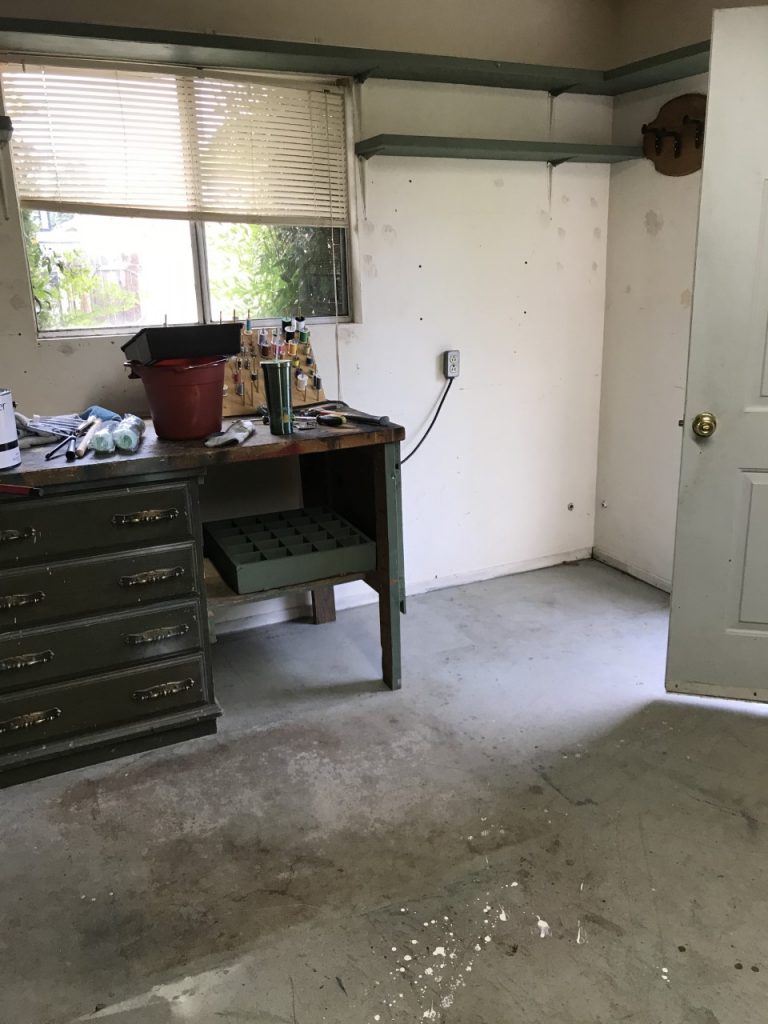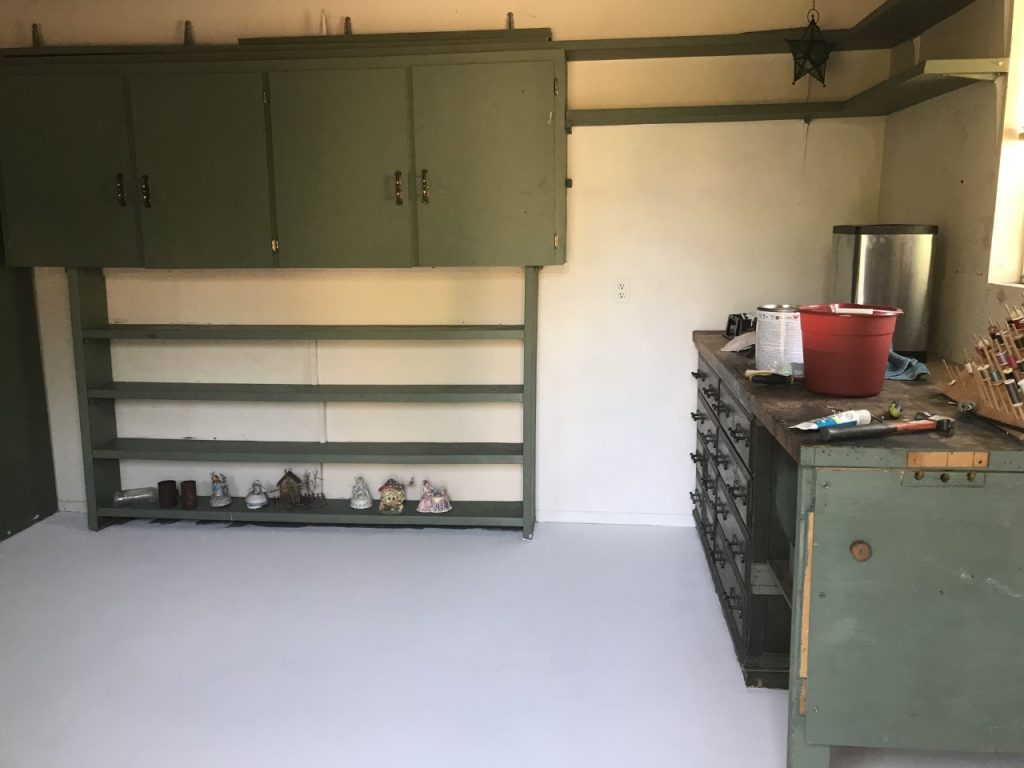 Step One: Paint
The cheapest can of paint at Walmart is only $9. Add in their painting kit (consisting of a tray, a roller with two foam inserts, and a brush) for $5.
I mean, for $15 (oh wait, I also bought the extender for the roller so I didn't need to get on my hands and knees. That ran me another $4), so for $19 it pretty much transformed the space already.
One can of paint put three coats on the floor and one coat on two walls. This can of paint was like Mary Poppins' carpetbag: it just kept giving and giving. I expected it to be terrible, but it went on well and dried so dang fast it was awesome.
I didn't do every last wall space: in and around the shelves didn't get any, or up top. Oh, and if you think I got under every last heavy piece of furniture, you'd be wrong. This is the woman who once painted a wall AROUND a huge bookcase because she didn't want to move it.
I hadn't planned on doing any walls at all, but the fresh paint on the floor made the walls look even nastier. And why oh why do people paint walls off-white/beige? Antique white, my great aunt Fanny. It's the color of used bandaids. If you're gonna do white, DO WHITE.
This concludes my Ted Talk tutorial. Thanks.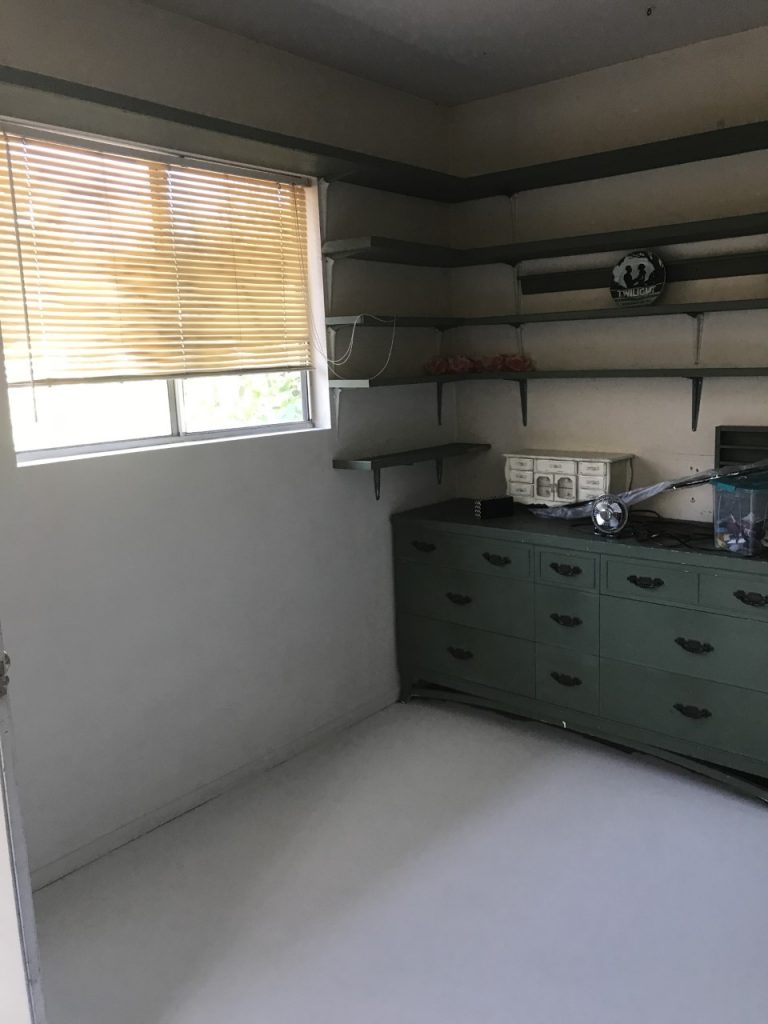 Step Two: Stuff Decor
I had initially put it out on FacebookLand that I was starting this project, not because I was hoping to find free stuff, but more looking for ideas. However, it just worked out that these friends had a rug and chair that needed a good home.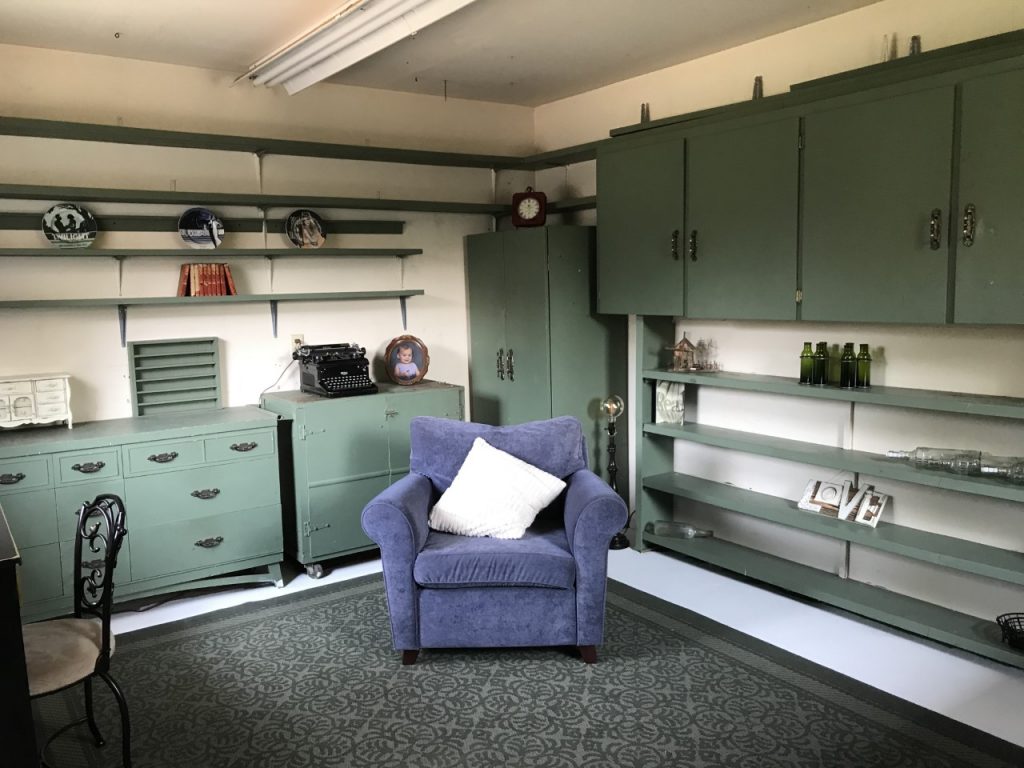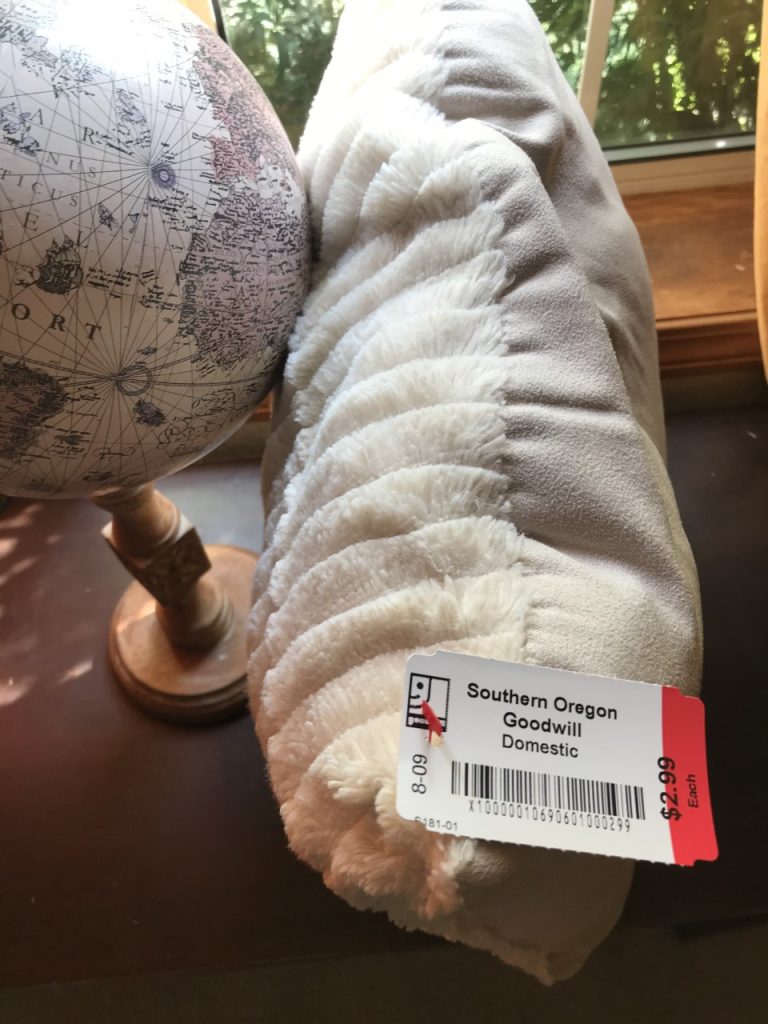 I know. This is where you get annoyed with me. It's like those dang articles on How I Retired at Age 32 or Paid Off My Mortgage In Two Years. And then you read them and they have wealthy parents who let them stay in their poolhouse free of charge for three years, or a rich uncle who willed them $40,000 or something. So annoying.
But, okay, I got lucky with the rug and the chair. If your friends aren't as accommodating as mine are, check Craigslist and Facebook Marketplace, or just raid your own house!
Just be prepared with Craigslist and the like that if it's a good deal you have to hop on it quick. Yard sales are another great place to find inexpensive things.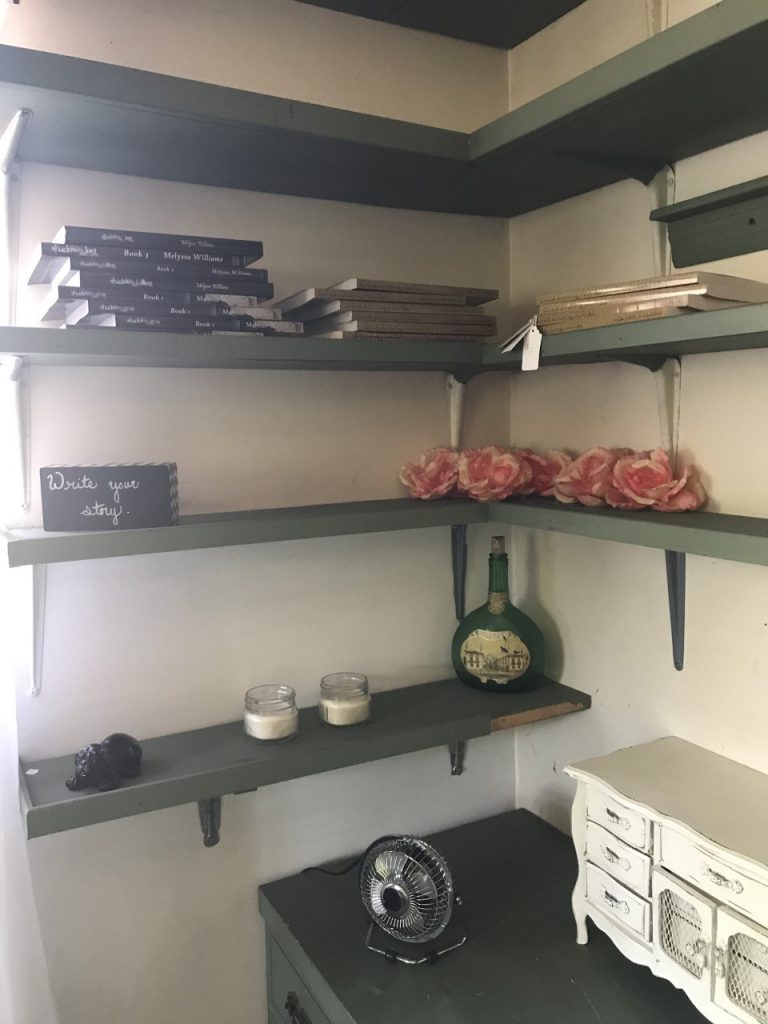 I'm a bit of a minimalist anyway, so I didn't feel the need to fill every shelf and cupboard with stuff. I don't really like stuff, to be frank. Or tchotchkes. Or knick-knacks.
If this was our forever house, I would likely fill up the shelves with old books. But I have a sneaking suspicion that were I to do that, we'd end up moving lickety-split.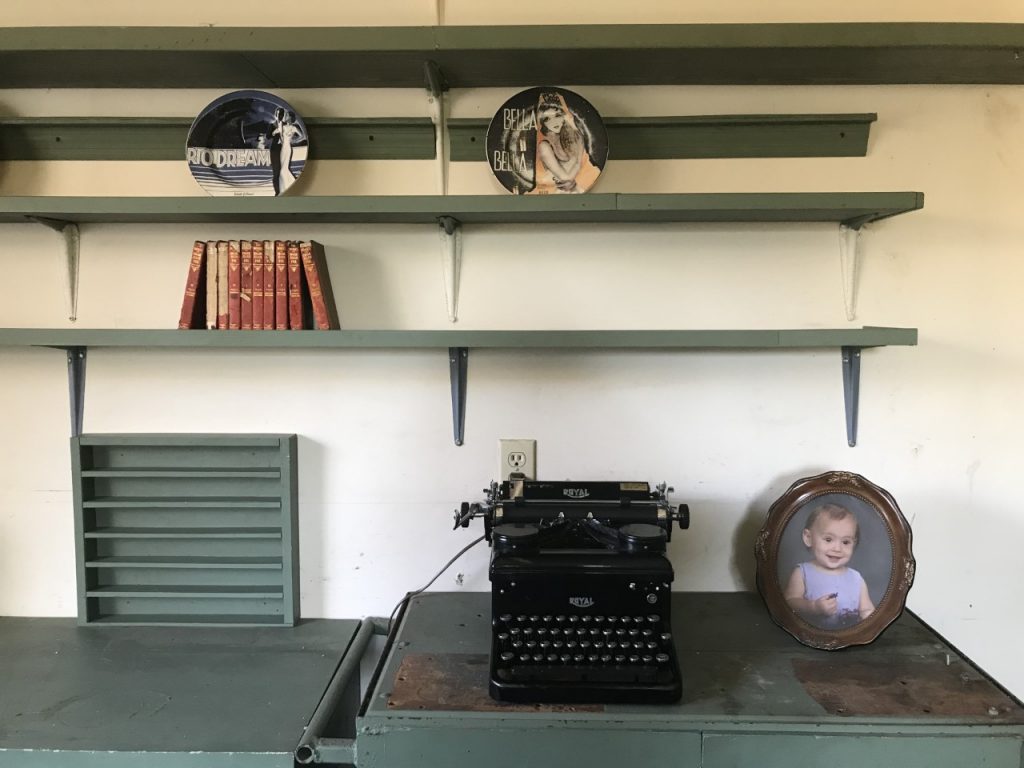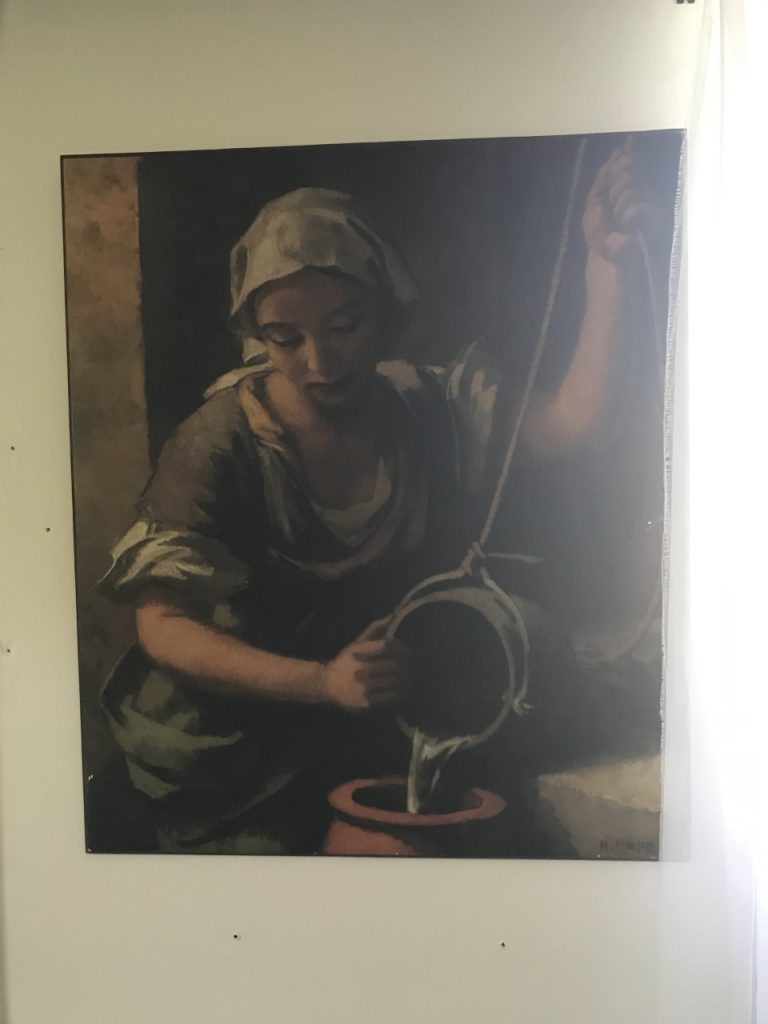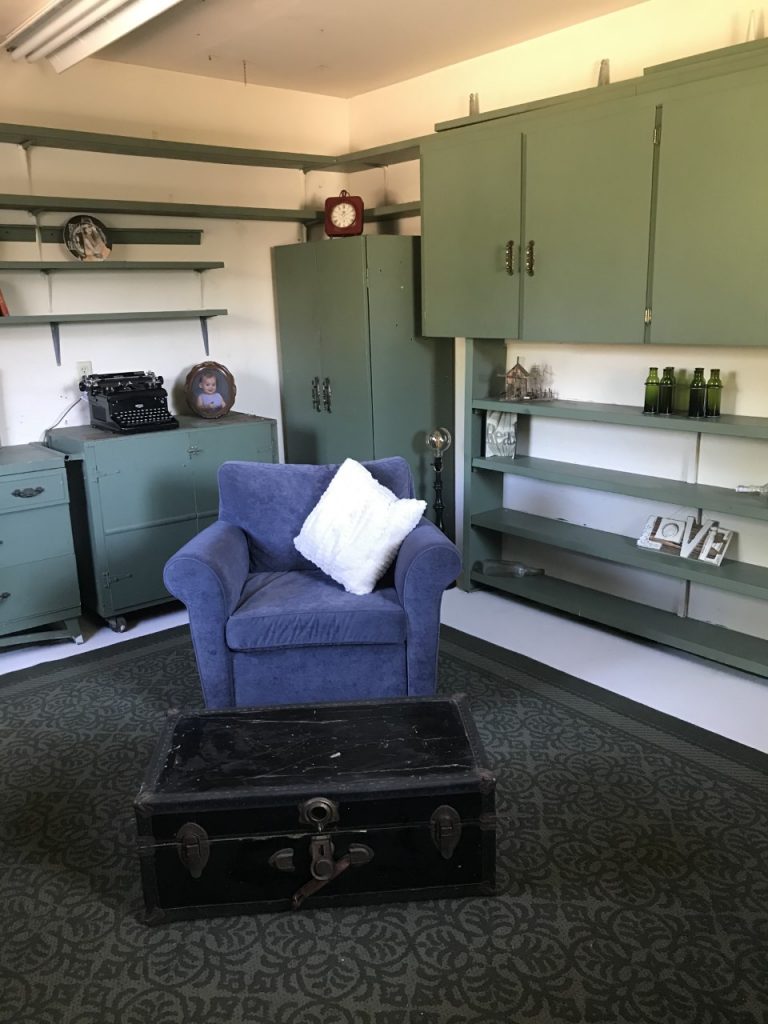 The trunk works as a coffee table and place to set my glass of wine or cup of coffee when I'm writing.
It also would be perfect to store some blankets for winter. It ran me ten bucks at a yard sale.
Step Three: Heating & Cooling
Speaking of winter, the shed doesn't have heat or AC, so a window unit for hot summers and a little space heater for winters will be ideal.
Or I can just spending mornings in here until it gets too hot. Then I go in my air conditioned house and watch true crime docs.
Flip that for winters.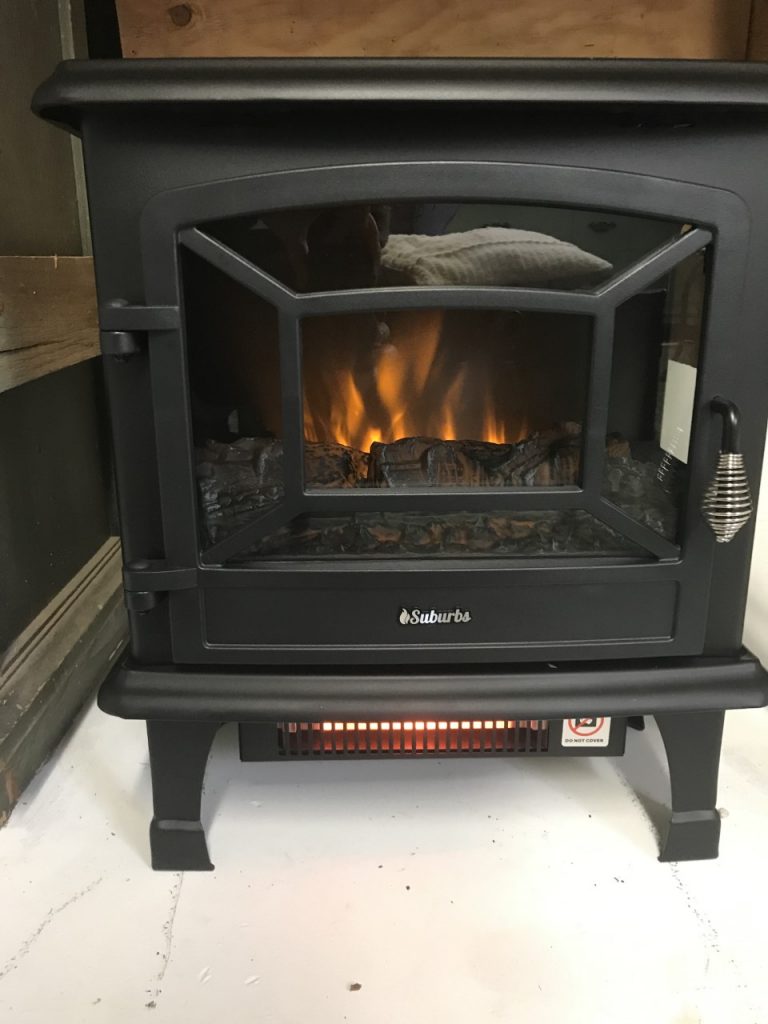 Step Four: Windows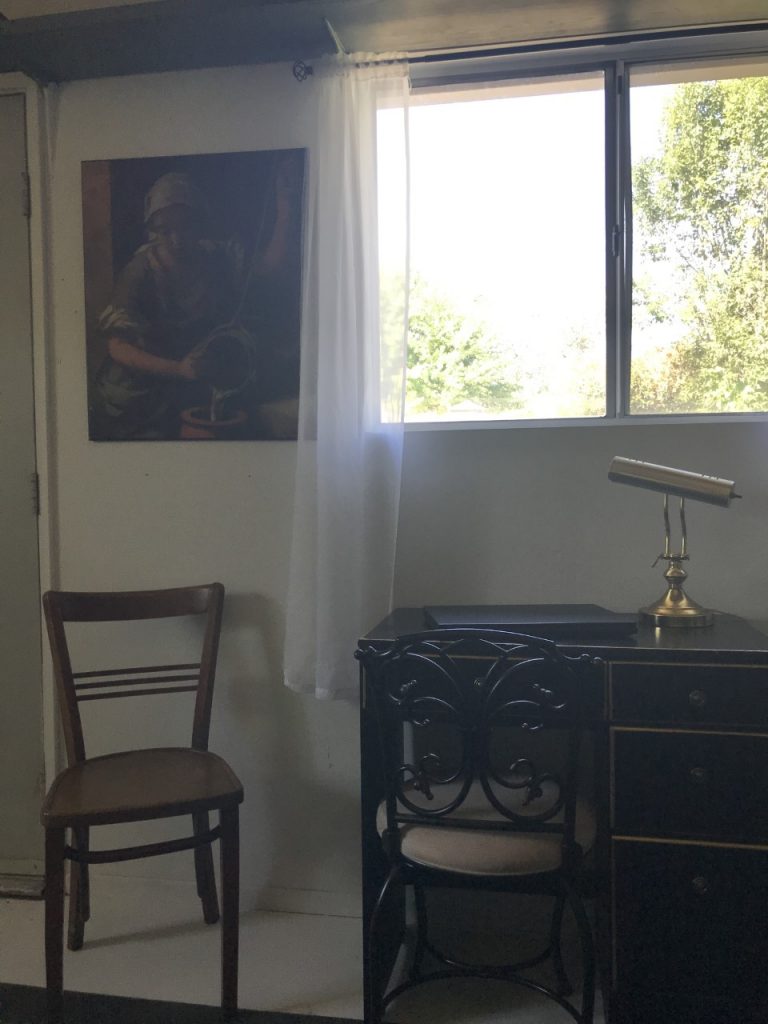 There are two windows, and once I yanked down the old blinds and cleaned out the tracks (baking soda and vinegar and lots of paper towels), I hung up curtain rods (one from Walmart for $5 and the other from Ross for another $5).
Finding sheer white curtains was harder than I expected! Goodwill (all of them, we have three in the area), Salvation Army, Ross, TJ Maxx, Homegoods, Target, Walmart, they were all a bust!
They were either too expensive or they didn't have any at all. But St Vincent's de Paul didn't let me down! They had three panels for a mere $4. I used scissors to cut each in half, leaving me with six pieces. I only needed four, so I pretty much scored there. Love me some St Vinnie's.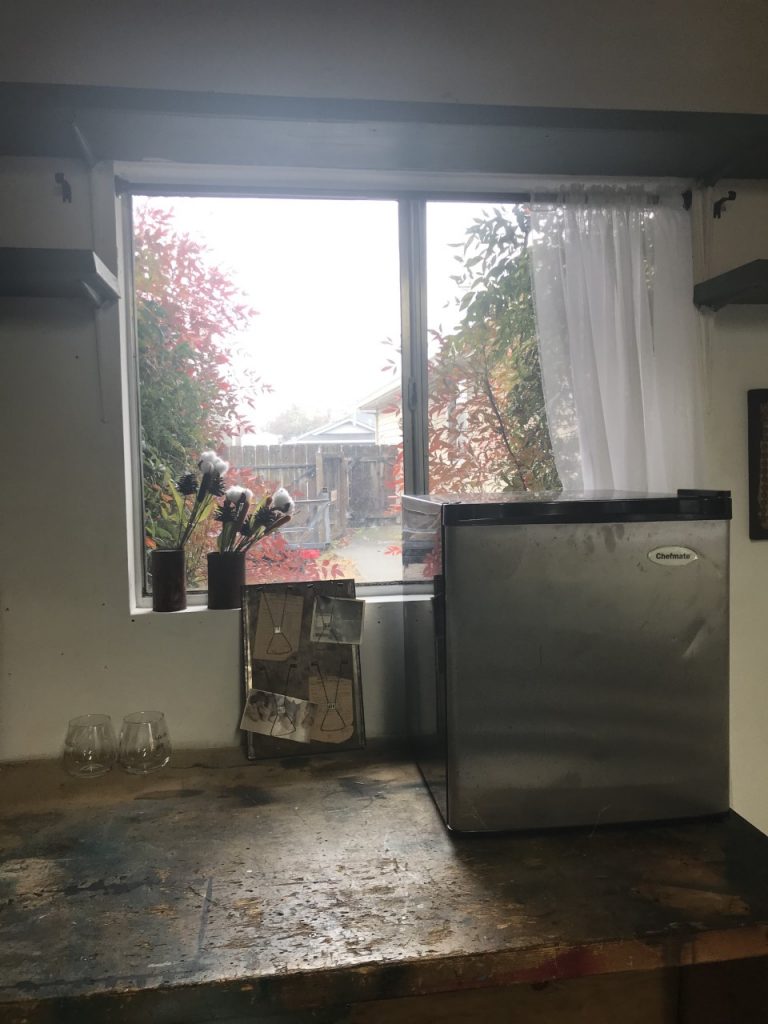 Step Five: Lighting
The lighting is something I couldn't do much about. Those ugly old florescent tubes just aren't something I'm willing (or allowed) to remove, so I just pretend they aren't there and don't look up.
I suppose I could drape some fabric, boho style, on the ceiling? What do you think? Please advise.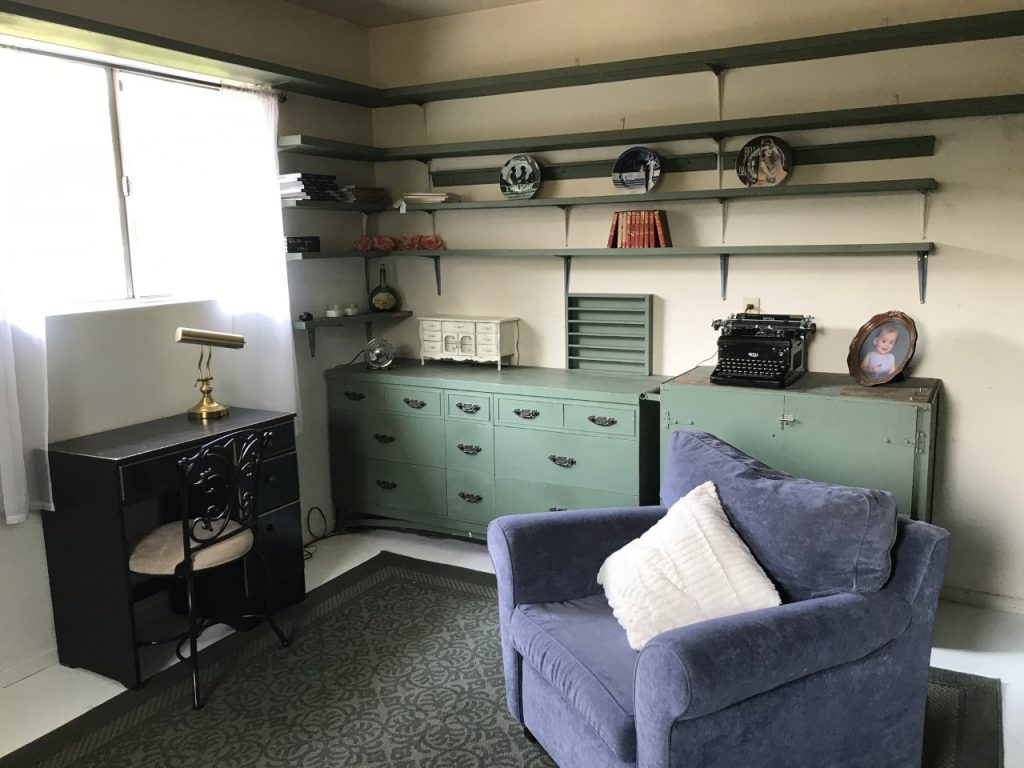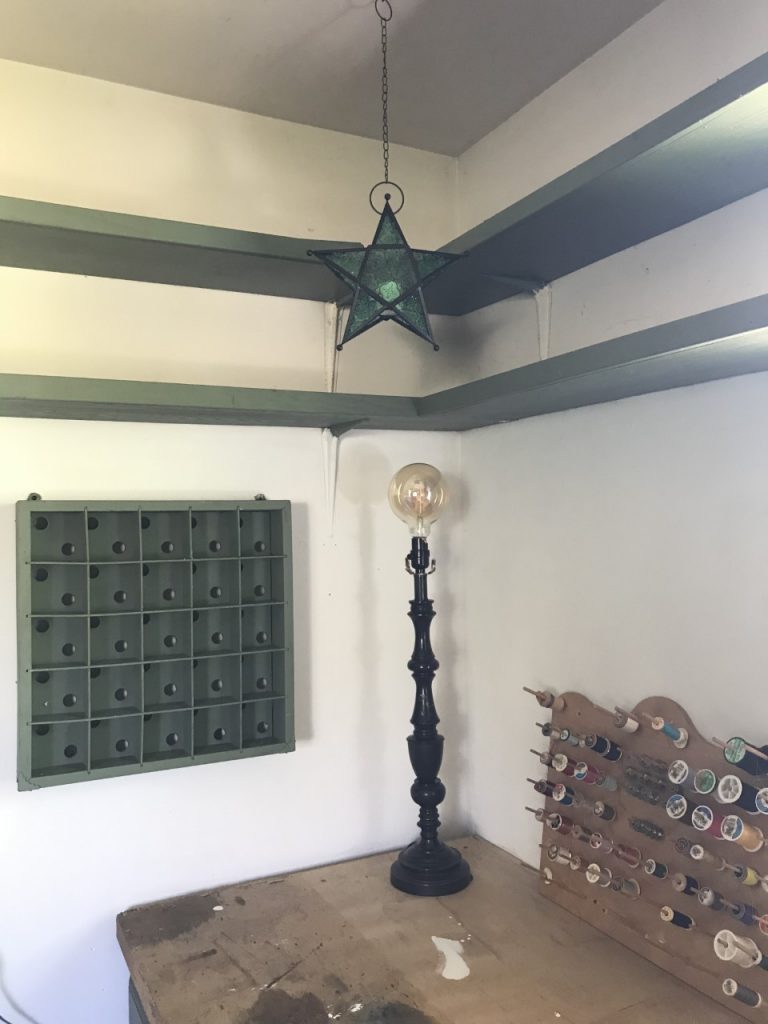 The little cupboard came with the shed and it's super cute, but I don't know what to put in it. Please advise. Don't tell me essential oils because I'm the only middle-aged white woman who doesn't do oils.
Okay, the lamp was a set of two I found at Goodwill: one was $6.99 and one was $4.99 (because one had obviously been dropped at some point and had some chips), but they were both half price, so such a steal. I'm kind of a weirdo who doesn't like lampshades, so I decided to put these funky, vintage-esque, big bulbs in instead. The pack of two was actually my most expensive purchase, funnily enough.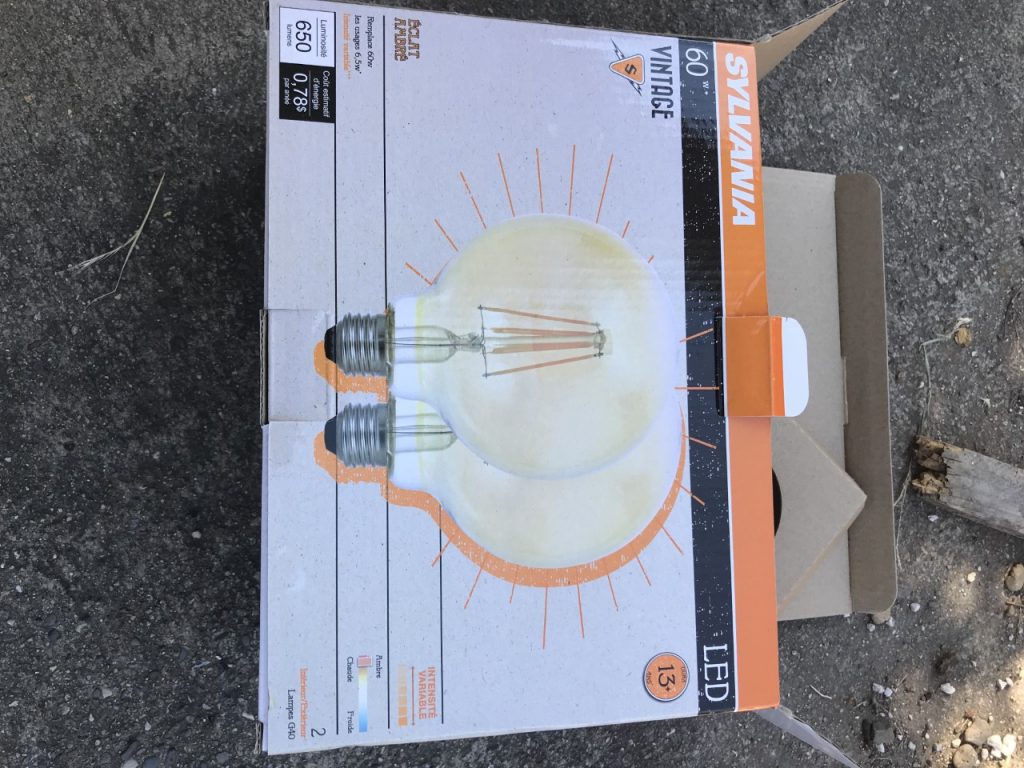 My friend said they look like the Eye of Sauron, and I'm not mad.
The other decor you see I already had lying around, with a few exceptions that came from the Dollar Tree, like the pinecone flowers and the glass bottles with fairy lights inside.
I wasn't sure if the wifi would reach but it does. However, not having wifi as a writer can sometimes be beneficial. You can't get distracted by the internet if you can't access it.
That's a helpful hint from me to you. The first one's free. Next time bring a friend.
So all in all, it took me about four days, two generous friends, and about $70. However, I sold a desk on Craigslist for $30 and two broken sewing machines for another $30, so my out of pocket was even less than that.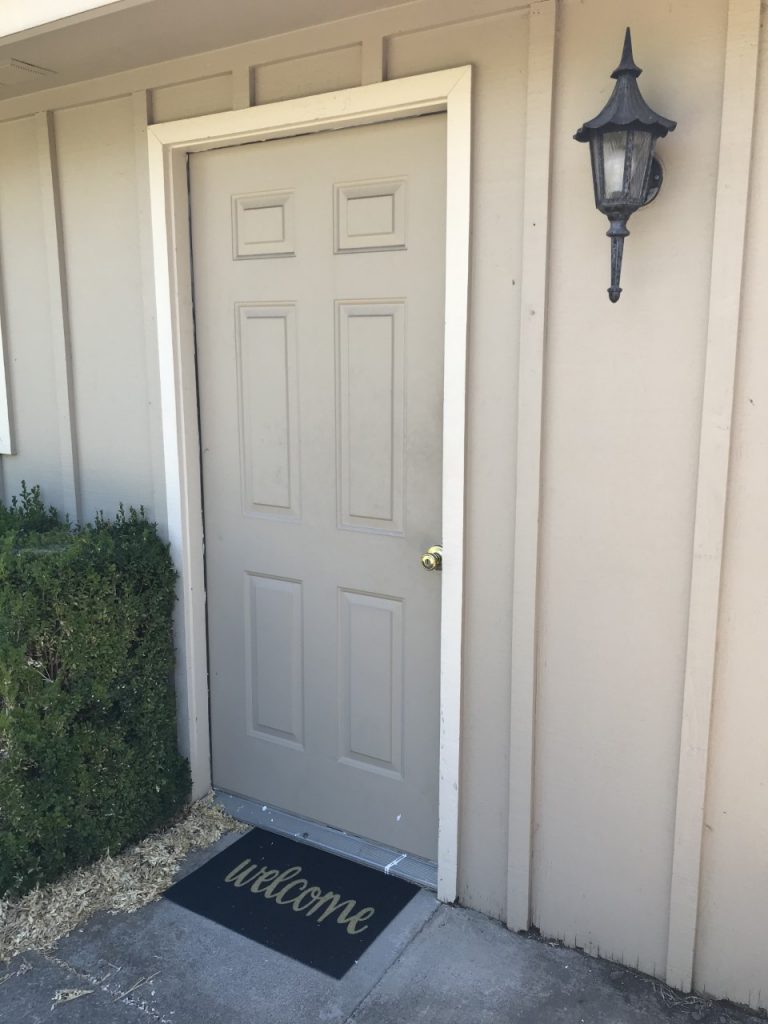 And that is how you turn an old shed into a writer's cottage. For, like, ten bucks.